This is to proudly announce that the IVF center at SGRH swept 4 awards at the National Fertility awards by Economic Times on 4th of October. First, the IVF center was awarded as the second best integrated IVF team in India. Second, Dr. Gaurav Majumdar was awarded the coveted prize of the Best Embryologist in the country. Third, Dr. Abha Majumdar was awarded the ICON of IVF in North India; and then the most coveted one for her as the best IVF clinician in India, 2019.
Association of National Board Accredited Institutions (ANBAI) Recognizes the Outstanding Contribution of Dr. Abha Majumdar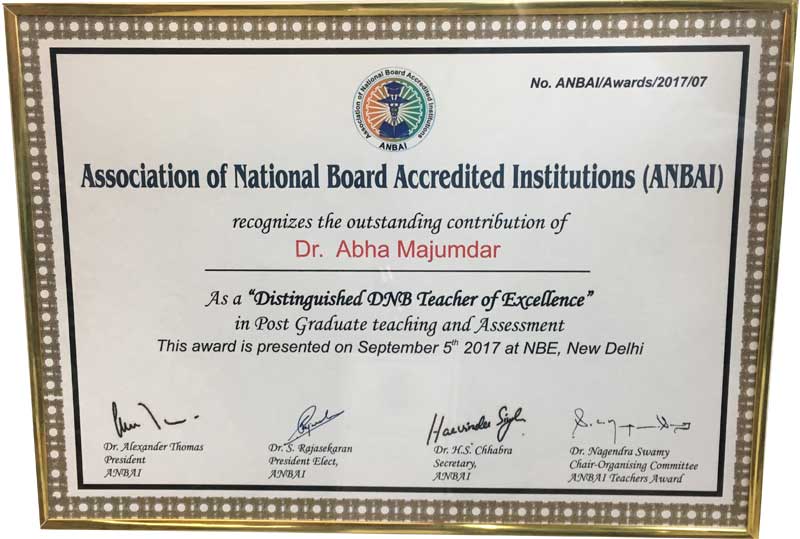 Awarded most inspiring Gynecologist of the country on eve of doctors day by anupriya Patel minister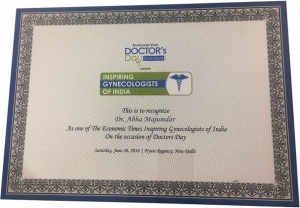 Honours & Merits during Graduation and Post Graduation
Certificate of Honours in 9 Subjects: Anatomy, physiology, pathology, pharmacology, forensic medicine, surgery, medicine, ophthalmology and obstetrics & gynaecology (Out of a Total of 10 subjects)
8 Book Prizes
7 Gold Medals
Gold Medal for the best student in the last 4 years1975
Gold Medal for standing 1st in the final professional exam1975
5 Gold Medals in all 4 subjects, final professional examination (2 in surgery)
7 Silver Medals, 1 Trophy & 2 Cash Prizes Awarded In Various Subjects During 3 Professional Examinations.
Chancellor's Medal for the best student of the university, 1975
President's Silver Medal for best girl medical graduate, 1975
Awards received as clinician
Responsible for the First IVF baby in Northern India, conceived and delivered on the 21st of September 1991, at the Unit of IVF & reproductive Medicine at Sir Ganga Ram Hospital, New Delhi.
Head of the team responsible for reporting the "First IVF baby in northern India by frozen oocyte" conceived in 2008 and delivered in 2009.
Felicitated with award by DMA on B.C.Roy's birthday, 1st July 1999, as pioneer in the field of Medical profession & for great contribution towards medical and public health.
Felicitated by 'Nations VikasRatan Award' on 29th April 2002 at New Delhi by Nations Economic Development & Growth Society.
Felicitated for outstanding contribution towards field of specialty by Agra Alumni Delhi branch in 2006.
Felicitated with "ChikitsaRatna Award" by International Study Circle in 2007.
Felicitated by "Medical Excellence Award" (Life Time achievement) in Obstetrics & Gynecology by Hippocrates foundation in 2014.
Felicitated by 'Abdul Kalam gold medal' by Global Economic Progress & Research Association 2015.
Conferred the designation of Professor GRIPMER in Dec 2012 by the dean of Sir GangaRam Institute of Postgraduate Medical Education and research.
Ranked as Best Fertility and IVF Centre in Delhi, NCR& North Zone and Second best fertility and IVF Centre in India according to Times of India, All India Fertility & IVF Ranking Survey 2017 on 16th December 2016.
Felicitated by infertility committee of FOGSI on 26th January 2017 at AICOG Ahmedabad for imparting the 'highest number of advanced infertility observer ships' to gynaecologist in last 3 years at the IVF centre SGRH.
Felicitated by the Association of National Board Accredited Institutions (ANBAI & NBE) on 5th September 2017 at National Board of Examinations, New Delhias a "Distinguished DNB Teacher of Excellence" in Post Graduate Medical Education & Examinations, India.
Felicitated by "Rashtriya Gaurav Gold Medal Award" by Global Economic Progress & Research Association (GRIPRA) for 'Outstanding Individual achievement in management' on 15th October 2017 at Chennai.
Felicitated by "The Economic Times on Doctor's Day Conclave 2018" for "Inspiring Gynaecologists of India" on 30th June 2018 at Delhi.
Felicitated for the highest award in the speciality of reproductive medicine by Merck and Serono pharma company on 25th Nov 2018.
Felicitated by Indian Fertility Society in IFS Haryana Chapter, Annual Conference on 19th May 2019, New Delhi as a 'Distinguished Teacher of Excellence' in Post Graduate Medical Education & Examinations, The Leela Ambience Hotel, Gurugram.
Awarded by ZEE business health care awards function on the 28th of September at the Taj Mansingh Hotel as the, 'Woman leadership award 2019'.
Awarded at the Economic Times Health Care award function held at 'The Lalit' New Delhi, as the "ICON of IVF of North India", her team awarded as the 'Best integrated national team of IVF', and then the most coveted award as the 'IVF Champion of the year 2019'.